Hi-5 Retreat 2020: V-Symposium [1 – 4 December 2020, 9am to 12pm]
A virtual symposium organized by Malaysian Society of Neurosciences – Basic Neuroscience Council as a platform for professional exchange, education and collaboration amongst the neuroscientists and allied health professionals to promote advancement of neuroscience and inject enthusiasm into this very special branch of science.
Hi-5 Retreat 2020 is a four-day virtual symposium consists of Translational Neurosciene Forums, Industry Talks, 5-Minutes Elevator Pitch, Free Paper Presentation and E-Poster Presentation.
Topics of interest include Alzheimer Disease – From Bench Side to Bed Side, Cerebral Small Vessel Disease, Addiction, Natural Products and etc.
This year, we are proud to sponsor an Industry Talk on 3 December 2020 (Thursday), 10:00am to 10:30am.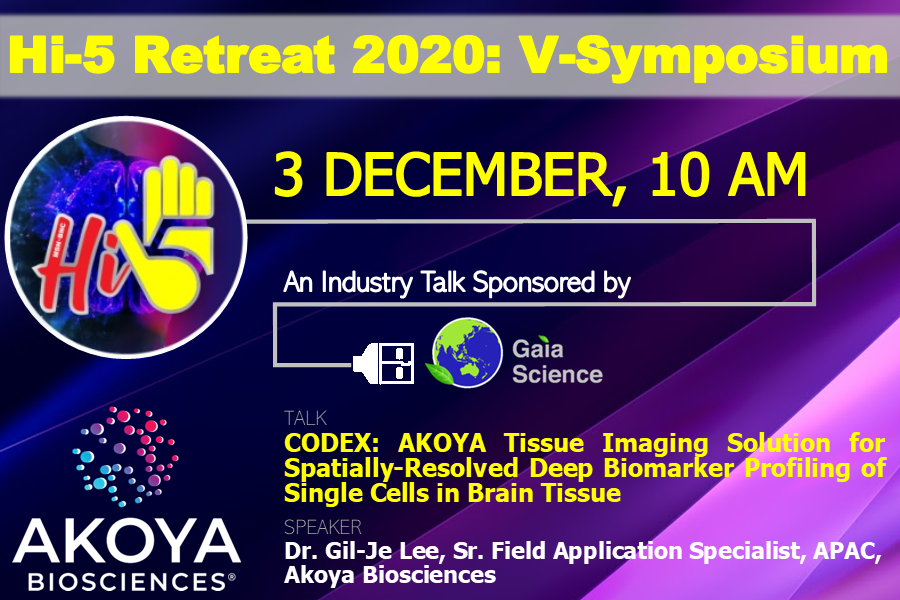 Title: CODEX: AKOYA Tissue Imaging Solution for Spatially-Resolved Deep Biomarker Profiling of Single Cells in Brain Tissue
Speaker: Dr. Gil-Je Lee, Sr. Field Application Specialist, APAC, Akoya Biosciences
Biography: Dr. Gil-Je Lee received her Ph.D. from POSTECH, Korea in 2007. She then completed postdoctoral appointments at Perdue University and Korea University. During this time, she studied on understanding of systemic control of protein trafficking in cells. Based on her experience in molecular and microscopic imaging, she had worked in Perkin Elmer Korea as an application specialist to supported High content screening (HCS) and Quantitative pathology Solution (QPS) from 2012 to 2019. Now she works as a Sr. application specialist in Akoya Biosciences, APAC from 2019.
Check out the event details below and mark your calendar!